22 maart 2015 12:53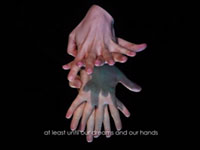 In Hilversum was het stil vandaag gisteren, (probleempje met ftp naar de webserver, plaatsen lukte gisteren niet ;-}) Elders was het International Day against Racism. Een thema dat helaas actueel is gebleven.

De Portugese oriental-dance-artist Sara Toscano maakte in dit kader de prachtige video "HANDS against discrimination". Handen die in kleine of grote gebaren kunnen kiezen voor afwijzing of toenadering. Afhankelijk van de keuzes die wij maken in ons handelen.

Met passende muziek van de griekse componist Manos (what's-in-a-name;)) Athanasiadis, tekst van dichter Thomas Tsalapatis en zangeres Katerina Kozadinou.